Consumer Demand for New Homes Has Rebounded
It's not normal, but it's normal for now.
That was the word Friday on Southern Nevada's residential real estate market, with a panel of experts at the Las Vegas Housing Outlook telling an audience of sales agents, builders and lenders they can expect more investors and higher prices in the next year.
"There are going to be some big booms and little busts," said panelist Marcus Conklin, a former assemblyman who is associate director of UNLV's Lied Institute for Real Estate Studies. "The difficulty is figuring out what is happening in the short and long run so you can plan your business to give you the biggest likelihood of success in the long run."
Here is what we know about the short run, at least: After cratering in the downturn, consumer demand for new homes has rebounded.
Take weekly traffic per subdivision, which roughly doubled in the past year. Net weekly sales per subdivision have skyrocketed, too, from around 0.1 in late 2011 to 1.3 today. That approaches the 1.6 sales per week of January 2006, though the market has just a third of the new-home subdivisions it had back then. Still, anything above 0.7 weekly sales is strong, said Dennis Smith, president and CEO of Home Builders Research.
Overall, local builders closed on 5,544 homes in 2012, up from 3,894 in 2011, and Smith projected they will sell 7,000 in 2013.
As sales have grown, so have prices. The median new-home price has jumped to $227,081, compared with less than $200,000 last summer.
There's a catch to this hot market, though. Builders aren't replacing what they're selling, and that could drive up prices even more. Fifteen percent of the market's 131 subdivisions have fewer than 100 lots left, and another 44 percent have fewer than 50. Sure, builders are buying raw land, but those parcels are a year or more away from construction, Smith said.
Plus, the lots builders do replace will come at a much higher cost, and that could mean higher home prices a year from now. Where an acre of unimproved residential land ran $175,000 in December, it cost $300,000 by early March. Builders will need to price that increase into their homes.
To find new homes that are currentliy on the market, contact me today at 702-370-2116 so we can view the new homes that are still currently available while they last.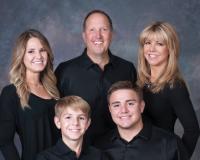 Author:
Brenkus Team
Phone:
702-526-2298
Dated:
April 19th 2013
Views:
581
About Brenkus: Rick and Teri Have been top producers for over 30 years in the Las Vegas area and have been ranked i...