Does This Mean Washington Is Getting Together
A bipartisan group of Senators introduced Tuesday a bill to remake the role of the federal government in mortgage finance. The bill proposes replacing Fannie Mae and Freddie Mac with a new guarantor, the Federal Mortgage Insurance Corp. The FMIC would offer reinsurance of mortgage securities if private creditors ever reached another crisis in the future.The legislation would "require private entities to buy mortgages from lenders and issue them to investors as securities," Reuters reports. "Private equity would be required to absorb a 10 percent loss of the principal underlying those new mortgage-backed securities if the loans went bad."The government took control over Fannie Mae and Freddie Mac in 2008 and has spent $187.5 billion in keeping the government sponsored enterprises afloat. Recently, the GSEs have emerged from needing taxpayer bailout funding and have been posting record profits since the housing market has picked up. Fannie Mae and Freddie Mac back nearly half of all new U.S. home loans."It lessens the footprint of the federal government in housing and winds down Fannie and Freddie," says Sen. Bob Corker, R-Tenn., one of the lawmakers who introduced the bill. "But at the same time it keeps the housing finance industry in a liquid state."The bill is only the first step and it will likely take years before Fannie Mae and Freddie Mac are fully wound down, analysts say. Analysts say that even if the proposed legislation won the support of the Democrat-led Senate it would still need to gain approval in the Republican-controlled House of Representatives. Many lawmakers in the House have said they favor a fully private system. The legislation "represents a milestone in the government's response to the housing crisis as it is the first comprehensive, bipartisan measure to deal with Fannie, Freddie and mortgage finance," writes Jaret Seiberg, a senior policy analyst at Guggenheim Securities, in a research note. However, Seiberg was doubtful the legislation would be approved as is.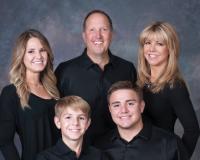 Author:
Brenkus Team
Phone:
702-526-2298
Dated:
June 26th 2013
Views:
588
About Brenkus: Rick and Teri Have been top producers for over 30 years in the Las Vegas area and have been ranked i...