For The Novice Investor How Do I Calculate An Accurate Return On Investment
Many people are deciding to invest in real estate. One important factor in investing is trying to ascertain the return on investment. People calculate return on investment differently but I would like share how I calculate return on investment.

First I calculate my total expense to acquire the property and get the property move in ready. There are three items that I add together:
1. Sales Price
2. Closing Costs
3. Repair Costs (I average between $3-$4 per square foot)


For example for a 1000 sq. ft. home I would use the following numbers
Sales Price $100,000
Closing Costs (est.) $ 2,000
Repair Costs $ 3,000
Total Acquisition Cost $105,000


Secondly I calculate net operating income. In order to calculate the net operating income you have to find out what rents are in the area for the property. You will also have the find out the costs of expenses for the property.

Let's continue to use our 1000 square foot home in the example. Probable rent would be $900 per month. A REALTOR can help you determine probable rents. In order to account for vacancy I only use 11 months of the probable rent. So for me the gross income for this property would be $900 x 11 = $9900.


From the gross rent you would then subtract your expenses. Expenses include insurance, property tax, master plan fees, HOA fees, property management fees, pool maintenance, home warranty and repairs. Each home is unique so make sure you account for any expenses unique to your property.

Expense calculation example:
Insurance (.35 x sales price, est.) $ 350
Taxes (use tax records) $ 700
Master Plan Fee
HOA Fee (annual) $ 300
Property Management (8% of annual rents) $ 864
Pool Maintenance
Home Warranty (reduces repair cost) $ 450
Repairs $ 120
Total Expenses $2784

Net Operating Income Calculation example:

Gross Rent $ 9900
Minus Expenses $ 2784
Net Operating Income $ 7116

The last step in to calculate your return on investment.

Return on Investment Calculation example:

Net Operating Income $ 7116
Divided by Total Acquisition Cost $105000
Return on Investment 6.78%

Please contact the Brenkus Team for more information regarding investment properties. The Brenkus Team has closed several transactions for real estate investors.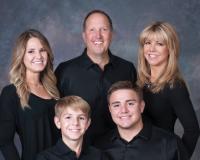 Author:
Brenkus Team
Phone:
702-526-2298
Dated:
July 30th 2013
Views:
1,084
About Brenkus: Rick and Teri Have been top producers for over 30 years in the Las Vegas area and have been ranked i...