Hmmm what about them boomerang buyers
Home owners who once lost their homes to foreclosure and short sales -- known as "boomerang buyers" -- are becoming a growing force of home buyers again.
"Their time out of the market may be shorter than many Americans might expect," USA Today reports. "People who go through foreclosure can rebuild credit records and qualify for home loans again in three to seven years if they manage their finances well."
More than 4.7 million home owners are estimated to have lost their home to foreclosures or short sales since 2007. Seventy percent of them will likely return to home ownership within eight years of their short sale or foreclosure, according to estimates by John Burns Real Estate Consulting. And with the housing downturn starting about six years ago, this could be the first big year for boomerang buyers. Boomerang buyers could possibly account for 10 percent of home sales this year, Burns estimates.
His firm projects that boomerang buyers who lost homes in 2007 through 2012 will number 500,000 a year in 2013 through 2016.
And with home prices still relatively low and mortgage rates hovering at record lows, some boomerang buyers may even qualify for a mortgage that is cheaper than their previous one.
For example, one former home owner in Las Vegas, Dave Peterson, says he lost his home in foreclosure and then declared bankruptcy when he hit financial hardship a few years ago. But last year, he was able to buy a $280,000 home with his wife -- bigger than the home they originally owned and lost to foreclosure. Peterson was able to get a 3.74 percent, 30-year fixed-rate mortgage with no money down through the Department of Veterans Affairs, so his monthly mortgage payments are $1,600 -- compared to $3,000 for the smaller home he lost to foreclosure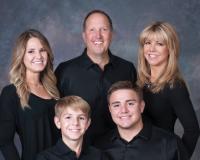 Author:
Brenkus Team
Phone:
702-526-2298
Dated:
April 3rd 2013
Views:
624
About Brenkus: Rick and Teri Have been top producers for over 30 years in the Las Vegas area and have been ranked i...