Las Vegas Area Home Sales Surged In July
By Jennifer Robison
Las Vegas Review-Journal
Sales of existing single-family homes surged in July, as prices recorded a healthy annual increase.
The market moved 3,180 single-family resale homes in the month, up 20.4 percent from 2,642 units in July 2014, the Greater Las Vegas Association of Realtors reported Friday.
The median price of $218,000 was up 9 percent from $200,000 a year ago.
"I like to compare the housing market to a marriage. It's a good thing when it's stable," association President Keith Lynam said. "For the most part, that's what we've seen so far this year. Home prices have been increasing, but at a slower pace than the past few years. It's also good news that we're selling more homes throughout Southern Nevada this year than we did last year."
The attached-housing market performed less evenly, with sales dipping 5.5 percent year-over-year to 635 closings, though the median price jumped 8.5 percent, to $115,000.
But the supply of homes listed without offers was also up — a trend Lynam and other Realtors say indicates some locals have inflated ideas of their home's sale price. At the end of July, 7,636 single-family homes were listed without any offer, up 5.1 percent year to year.
Also, the market's share of investors retreated. Cash purchases, an indicator of investment activity, made up 27.1 percent of the market, down from 35.6 percent a year earlier and less than half of a February 2013 high of 59.5 percent.
Short sales, when the bank allows a borrower to sell for less than what's owed on the mortgage, were 7.1 percent of the market in July, down from 11.5 percent a year earlier. Bank-owned home sales were another 7.7 percent of the market, compared with 9.1 percent in July 2014.
Contact Jennifer Robison at jrobison@reviewjournal.com. Follow @_JRobison on Twitter.
- See more at: http://www.reviewjournal.com/news/las-vegas/las-vegas-area-home-sales-surged-july#sthash.SkoudXwc.dpuf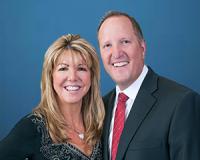 Author:
Rick and Teri Brenkus
Phone:
702-456-5959
Dated:
August 19th 2015
Views:
798
About Rick and Teri: Rick and Teri Have been top producers for over 30 years in the Las Vegas area and have been ranked i...