New Year New Me
Can you believe that it's almost December? Thanksgiving is over, the madness of Black Friday and Cyber Monday have passed and soon the holiday season will be finished. With 2019 on the horizon many of us are planning to adopt a "New Year, New Me" attitude. But how many of us actually kept our resolutions in 2018?
According to Business Insider's website, approximately 80% of our resolutions fail by February. This staggering statistic is one that many of us can relate to. How many of us lost that extra 30 pounds, or hit our financial goals? While some of us can hold are hands up, the rest of us must ashamedly confess that our resolutions were a bust.
As we look forward to the upcoming year, now is a great time to begin thinking of new resolutions with a concrete game. For example, if losing 30 pounds is the goal, it's important that there is a plan to make this happen. As much as we wish we would wake up thinner, we all know it takes daily consistency of eating healthy and exercising to shed the weight. So, what can you do daily to be 30 pounds lighter by 2020? A great idea would be to not to eat after 7 pm, or limit desert to once a week. If the goal is to add $5,000 to our savings account by the end of the year, a great idea would be to limit eating out to once a week instead of every night (this will likely also support weight loss goals too.)
The bottom line is that chunking down our goals to things we can do daily, makes them less daunting and we realize that they are achievable. When creating your resolutions, make sure to ask yourself - what can I do daily, weekly and monthly to make this happen? If we focus on what can be done today and tomorrow, and next month to hit our goals, then we are less likely to be in the 80% who fail our resolutions.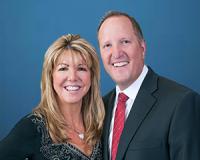 Author:
Rick and Teri Brenkus
Phone:
702-456-5959
Dated:
November 28th 2018
Views:
412
About Rick and Teri: Rick and Teri Have been top producers for over 30 years in the Las Vegas area and have been ranked i...