Smart Tips For Your Grocery Budget
Creating a budget can be difficult, especially when you're budgeting for groceries. On the high side, it is the area that you likely have the most control over when it comes to saving. You can't do much about adjusting your monthly car payment, but you do have a say on what your family is going to eat for the month. Budgeting for food doesn't mean you have to sacrifice quality or quantity. Take a look at the short list below for some tips on how to maximize your grocery shopping, while minimizing your grocery budget.
1. Coupons
This one seems like the most obvious, but how many of us actually remember to use coupons? Sometimes saving 10 cents doesn't seem worth the effort of ripping the coupon out of the newspaper and putting it in your purse. But, the savings that coupons offer add up and if you are serious about cutting back on your grocery budget without sacrificing the quality of your food, then coupons are a must.
2. Make a Grocery List
Every successful mission begins with a solid plan. The same concept applies to shopping for food. Plan out what you and your family will eat for the week and write down what you need. When you preplan your meals and go in with a list, you are less likely to add miscellaneous items to the cart that you don't need or already have.
3. Switch Up Your Grocery Stores
Most of us shop at the same grocery store out of habit and convenience. However, we can't forget that groceries stores are in the market to make money and are consequently in constant competition with Other stores. Enjoy the fruit of capitalism and cut down on your grocery bill by shopping the stores with the best deals.
4. Let Go of Brand Allegiance
Perhaps the best way to explain this concept is to share a personal story. I once stood in the spices aisle for a solid 5 minutes comparing different versions of cinnamon. The only ingredient in every brand I looked at was cinnamon. I was debating between two of the more affordable brands and was leaning towards one because the packaging looked nicer and I recognized the brand. However, when I read the fine print, I realized that they were both manufactured by the same company. What does that mean? It means they both contained the same ingredient, from the same manufacturer. They were the same product, but in different packaging with a two dollar difference. Be mindful of this when you shop. You don't have to compromise quality when you grocery shop, but don't be deceived by unnecessary brand loyalties if you're looking to save.
5. Don't Go Grocery Shopping Hungry
We all know how large our grocery receipt can be if we decide to go shopping hungry. You know the story, you waited too long to eat, but you have to pick up groceries on your way home so suddenly everything looks delicious and you can miraculously justify the price of every item in the store. This is a recipe for overspending. Just say no to shopping hungry.
Do you have any additional tips for people looking to save on their grocery budget? Let us know! Reply in the comment box below or send us an email at reo@brenkus.com.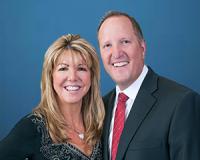 Author:
Rick and Teri Brenkus
Phone:
702-456-5959
Dated:
June 20th 2017
Views:
1,425
About Rick and Teri: Rick and Teri Have been top producers for over 30 years in the Las Vegas area and have been ranked i...