Summer Fun
Memorial Day weekend has officially ended and June is upon us. Las Vegas temperatures are rising, most of us are annoyed that we put off hitting the gym one too many times, and unless we enjoy being cooked alive, most of us have accepted that our energy bill is going to be larger than normal. So what is there to do in Las Vegas over the summer besides hide in your air conditioned living room and dream of California? Below are a few fun activities to help distract you from the summer heat:
1. Pool Parties
Summer is a great time to enjoy making a splash at a pool party. Whether that pool party is in your backyard or at one of the hotels, take advantage of the hot weather and cool off by the pool. Get your tan on.
2. Water Parks
Cowabunga Bay located in Henderson and Wet'n'Wild located in Spring Valley are massive water parks that are full of family fun. Between the wave pool, lazy river, and water slides, a water park is sure to provide a great reprieve from the heat and a fun way to pry the remote from your kid's hands so they can get active.
3. Concerts
We all know that Las Vegas is an entertainment destination, but for locals we often forget all that the City has to offer. Instead of sitting at home watching another episode of Friends, save up a few dollars, check out the summer calendar, and buy yourself a ticket to go see your favorite artist.
4. Hoover Dam

When was the last time you took a Dam Tour? If you're like most locals, the answer is either never or it has been awhile. The Hoover Dam is worth stopping by to see. Pack lunches, put the kids in the car and head out to enjoy a day of educational fun.
5. Shark Reef Aquarium at Mandalay Bay
For those of us who aren't taking a summer vacation to some exotic island, the Shark Reef is the next best thing. With its wide array of exhibitions, this is a great way to enjoy a date night or a family outing. Explore the wonders of the ocean without buying a plane ticket.
Let's face it, the heat is coming. But we don't have to maintain an "expect to fry" attitude. There are plenty of fun ways to beat the heat this summer!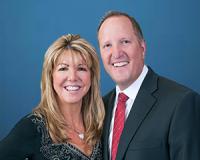 Author:
Rick and Teri Brenkus
Phone:
702-456-5959
Dated:
May 30th 2017
Views:
538
About Rick and Teri: Rick and Teri Have been top producers for over 30 years in the Las Vegas area and have been ranked i...