WE HAVE ARRIVED IN GOOD FASHION
It's been 5 LONG years but for the first time since 2008, equity home sales in the Las Vegas Valley have outpaced distressed sales (REO & Short Sale.) In February 2013, equity (aka, traditional or standard) home sales evened up with distressed sales and accounted for 50% of all resale home sales in the Las Vegas valley. One month later in March 2013, equity sales outpaced distressed sales at 54% of the market. To put this into perspective on how quick our market is changing, just one year prior in February 2012 distressed sales dominated 74% of the market share and two years prior in February 2011 distressed sales dominated 78% of the market share. Many great things have happened in our market in the last year – one of the best is rising prices. Many focus on the disgruntled buyers trying to take advantage of the cheap prices. Those leveraging their purchases with cash are seeking a great ROI, those leveraging with financing are seeking a place to call "home" taking advantage of today's low interest rates. I am focusing more on the homeowner that needs to sell but is barely upside down, rising prices are allowing these homeowners to sell without putting themselves in a short sale position. Imaginary things like new found home equity also have a great impact on positive attitude of home ownership which will benefit this sector of our economy. Less people will feel "trapped" in their homes will result in less distressed listings and higher home prices My position has always been that most people "disposed" of their homes like yesterday's garbage because of their negative equity position, not because they were in actual "distress". Less negative equity = less distressed sales.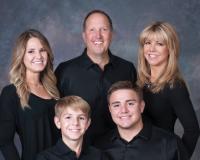 Author:
Brenkus Team
Phone:
702-526-2298
Dated:
April 26th 2013
Views:
849
About Brenkus: Rick and Teri Have been top producers for over 30 years in the Las Vegas area and have been ranked i...